I've just started doing my research on Okinawa, a place I've been wanting to visit ever since I was a teenager and I'm so glad that my dream will be coming true next March.We'll be doing a Taiwan > Okinawa> Taiwan trip!
Whilst I'm still in the midst of doing my research, I would like to share with you a list of recommended accommodations in Okinawa with Japanese style rooms that are

VERY DIFFERENT

from the typical list you will read from other reviews, blogs or platforms.In this post, I will not talk about the popular resorts you see or heard often such as ANA Intercontinental Manza Beach Resort, Rizzan Sea-Park Hotel Tancha Bay, Hotel Orion Motobu Resort & Spa etc..Rather, I will share with you the list of unusual accommodations in Okinawa with Japanese style rooms.
It's a must for me to stay in one of those Japanese style rooms with tatamis during this trip to Okinawa.Do note, all estimated prices are based on our travel dates in March 2018.

1. The Yuinchi Hotel Nanjo
Address: 1688 Sashikishinzato, Nanjo 901-1412, Okinawa Prefecture
Website: http://www.yuinchi.jp/en/
Area: Nanjo (East of Okinawa)


Overlooking the Pacific Ocean from on top of a hill, we are proud of our natural hot springs.
A wide variety of facilities are available, we look forward to helping you make your trip full of memories!



the Japanese style room
Hot spring!!
Outdoor leisure pool with slides - opened during summer only


Distance from NAHA airport: 40 minutes
Feature: natural source hot spring, kids activities available (chargeable)
Estimated cost per night: Standard Japanese room with no tub starts from SGD180 to family rooms Japanese style rooms with tub and breakfast at SGD240

Will be a great accommodation in Okinawa for a Summer trip when the outdoor leisure pool is opened!


2. Hotel & Restaurant On the Beach Lue
Address: 2626-1 Sakimotobu, Motobu-chō, Kunigami-gun, Okinawa-ken, 905-0225
Website: http://www.luenet.com/
Area: North West of Okinawa, relatively near Churaumi Aquarium



Description from website: On the Beach Lue is located in a beach area on Okinawa's west coast, surrounded by nature with the ocean stretching out endlessly before it. The hotel is a great base for tourists as many sightseeing locations are within easy driving distance. It is just a 20 minute drive to the famous Churaumi Aquarium. A fresh breakfast is available from the hotel restaurant and can be eaten on the terrace looking out over the beach and sea. Internet access is available in all rooms.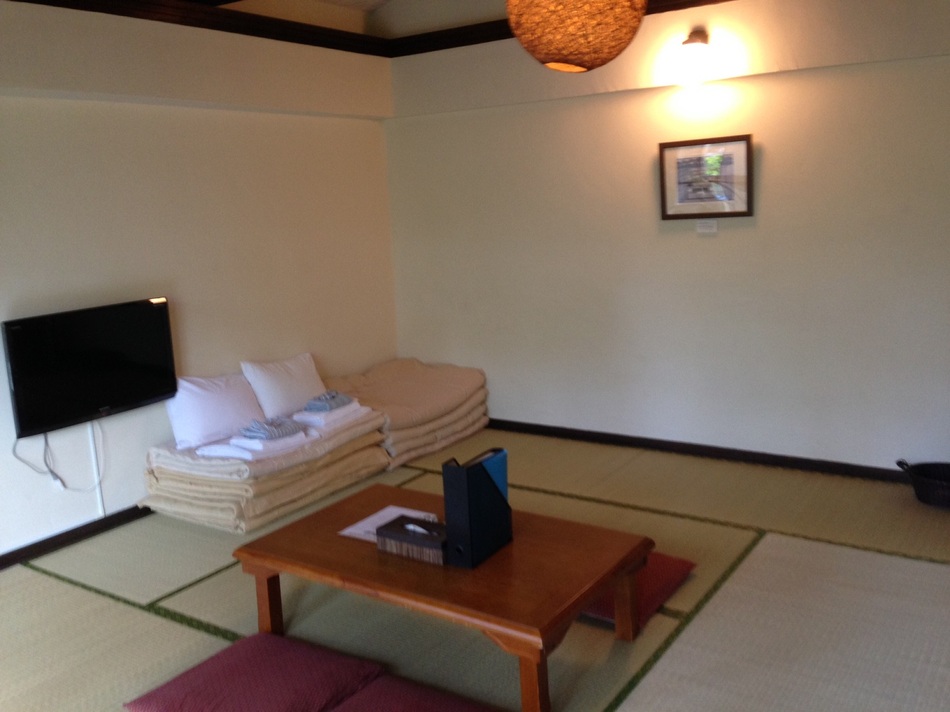 Distance from NAHA airport: 90 minutes
Feature: BBQ, your room is right in front of the beach
Estimated cost per night: from SGD110

A budget accommodation in Okinawa with Japanese tatami style room. Very much like a chalet/resort, no frills, not much facilities.

3. Okinawa Island Hotel
Address: 35番地 Daidō, Naha-shi, Okinawa-ken 902-0066
Website: http://www.okinawahotel.co.jp/multilingual/english/



Description from hotel: Our hotel has a Atmosphere of good old Okinawa .
Entrance with treated red cement tile. Grove of palm growing heading for the clear blue sky. Paysage of old Okinawa displayed in lobby.
We have pride in our offerings in relaxing but meaningful time and our warm hospitality towards our Guests

the japanese style room


Distance from NAHA airport: 20 minutes by car from Naha Airport. 7 minute walk from Asato Station when using the "Yuirail" (Monorail).
Feature: Large public bath,
Estimated cost per night: from $180

4. Ai Ai Handmade Farm
Address: 369, Wakugawa, Nakijin-son, Kunigami-gun
Website: https://www.otsinternational.jp/hotel/en/okinawa/motobu/47AIA/
Area: Motobu, North West Okinawa, relatively near to Okinawa Churaumi Aquarium





Distance from NAHA airport: Approx 1.5 hrs by car
Feature: Free parking, this farm stay was converted from an elementary school, manufacturing and agriculture experience,
Estimated cost per night: SGD180

Good for those interested in an agriculture experience.

5. Coldio Skyview Gushikumui (Joy Hotels)
Address:

1417-6, Yamazato, Motobu-cho, Kunigami-gun, Okinawa
Website: click here
Area: Motobu, North West Okinawa, very near to Churaumi Aquarium


Description: In summer 2017 we opened 15 maisonette type rooms (rooms with Jacuzzi available) with a panoramic view of East China Sea on slightly elevated hill in Motobu that situated in the northern area of Okinawa Island.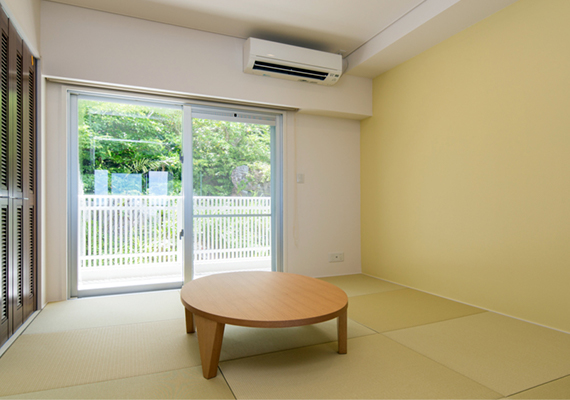 Image of the Japanese syle room with tatami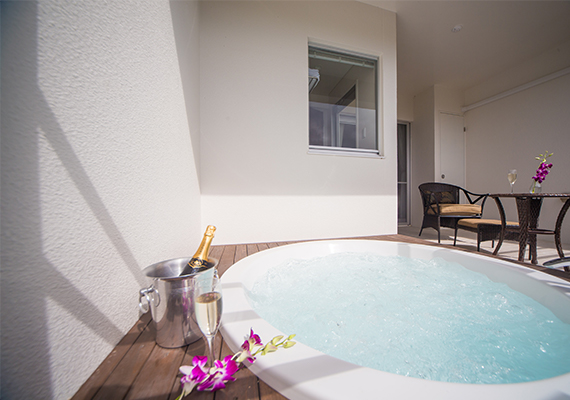 room with jacuzzi


Distance from NAHA airport: 2 hours by car
Feature: FREE parking, in NAGO area, proximity to Churaumi aquarium, Pineapple Farm etc
Estimated cost per night: $400 a night but room takes up to 7-8 people

6. Marine Piazza Okinawa
Address: Motobu-cho, Kunigami-gun, Okinawa Hamamoto 410
Website: http://m-piazza.com/english/


Using the "Lively vegetables" grown with the sun of Okinawa and the abundant land of Yanbaru, we have many nutritious menus.
Inside the building we have facilities and rooms that can be enjoyed with the whole family.
Within the hotel area we have a "Motobu Lively Village" in which you can experience dolphins, marine sports, as well as many other programs throughout the year.
Please indulge in the fun and good vibes of nature and enjoy your stay.





Distance from NAHA airport: 120 mins
Features: Motobu area, minutes drive from Churaumi Aquarium and its nearby attractions, farm animals, dolphins, kids play area within resort, Genchan room is a Japanese-western family room with tatami mats
Estimated cost: SGD230 per night

One of our shorlisted accomodation in Okinawa with Japanese style rooms. Though this is a little semi-Japanese style but I'm sure Sticky Bean will enjoy staying here.

7. Okinawa Grand Mer Resort
Address: 2-8-1, Yogi, Okinawa City, Okinawa
Website: http://www.okinawa-grandmer.com/en/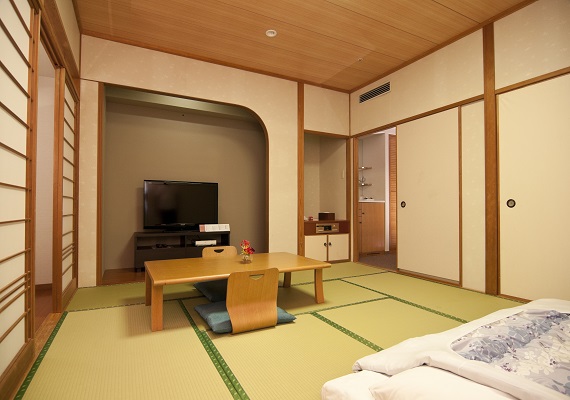 Image of the Japanese style room with tatami and futons




Distance from NAHA airport: 50 minutes by car
Feature: 5 minutes by car to Aeon Mall, easy access to both the north and south. Activities provided as well as bus tours to tourist spots, provide shuttle bus to airports and nearby American village as well
Estimated cost per night: SGD145 per night

Highlighly likely to be our choice for our 3rd and 4th night in Okinawa! A good central location so it will be our anchor point to visit places such as American Village, Rykuu Village, Bio no Akas..etc

If like me, you have started on your research, you may have come across OTS, one of the highly recommended car rentals company.
Not only do they have Chinese/ English speaking staff and an English website, they do have a special promotion if you book a hotel with them and rent a car at the same time.
Their prices are so so so reasonable, averaging SGD50 per day inclusive of insurance.
This is a lot cheaper than taking bus tours to tourist attractions. E.g. a bus tour to Churaumi Aquarium will set you back at about SGD18 for an adult, one way only!

Do check out their website below.
https://www.otsinternational.jp/

During my research, I've also come across quite a few cool accommodations in Okinawa that is different from the usual list as well but I didn't share them in this post as I want this post to be dedicated to Japanese Style rooms in Okinawa. I'll try to put the rest of the non-Japanese style rooms up and share with everyone here.