Finally did a mini reno for the master bedroom.
We're not looking at a major makeover nor splurging on an ID for the room as it doesn't make economical sense. Moreover we ain't sure how long would we be staying there for...so..
here comes.
Not easy getting a contractor willing to do a small job just for the room
1) Removal/ hacking of built in wardrobe
2) polishing and re varnishing of parquet flooring
3) Repainting of the room
4) Painting of 2 room's doors
Total Damage: $950 + $80 for bangala to throw de debris away...
Kaoz..smelly smelly also $1k loh...haiz......Talk about the high expenses related to wedding matters..
Let's take a look at the Before & After...
Big difference right? After paying $1k for this room, it better look different from the original room loh.
The workmanship's not too bad actually. There're no signs of damage or residue after the built in wardrobe has been removed.
The flooring's the part we felt it was the most worth! it looked as good as brand new can!! woohooo..$$ well spent we hope...
There's also when i finally realize the beauty of parquet flooring / marble flooring. Cos it can be polished and it does wonder to give your flooring a whole new look! As good as new!
I love stark contrast and the colour Red for a bedroom. Especially for our master bedroom as red exudes sensuality and passion. Especially good in a relationship.
My ideal wall colours would be black with red walls but it'll make the room appear way too dark. Also if we have all 4 walls painted red, it'll make the room appear dark too.
So we had only one side of the wall painted red to give the room a little "3D effect". And the rest white with a very soft shade of pink.
It brighten up the room almost instantly!
This will be where our bed's headerboard will be at too. against the red wall.
And of cos this is still incomplete, we'll spruce up the walls with pretty wall murals / decors too.
After selecting and placing the furniture that is.
The window's grille damn obiang though..but i guess with pretty curtains covering it, it shouldn't be much of an issue. Trying to cut cost wherever possible.
By right the cheapest method would be for us to DIY paint the room ourselves. But the difference is probably only about $300 or so and you still need to buy the paint on your own.
So reckon it's more practical to have them do it once and for all?
ok la..We Are lazy la..much as we like to save some $$ hehez...
Here are some examples of the wall decals / decor we wana incorporate in our room too..
Though it ain't exactly my ideal design (red and Black theme) like this;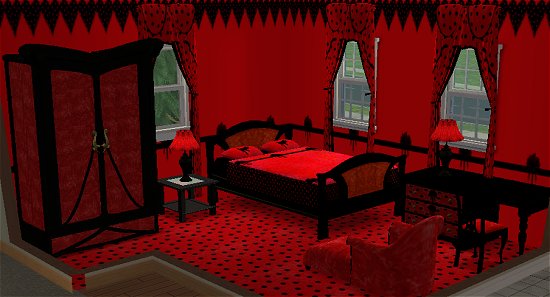 (lol this one too over already, just for illustration purpose..muaha)
but I do like the red part the most. and with enough wall decors, i supposed the room will appear more lively.
Just that it's kind of challenging choosing the right kind of furniture now. Initially, it was easy, just stick to black and red for contrast.
But now it seemed more like a red, white and black concept..hmm..Tricky!!
Off the head we both love a little bit of the zen style as we both love platform beds too!
Just some ideas;
i absolutely heart this!!!